There
are many great reasons to use physical security gates at your retail store.
Here are a few of the incredible benefits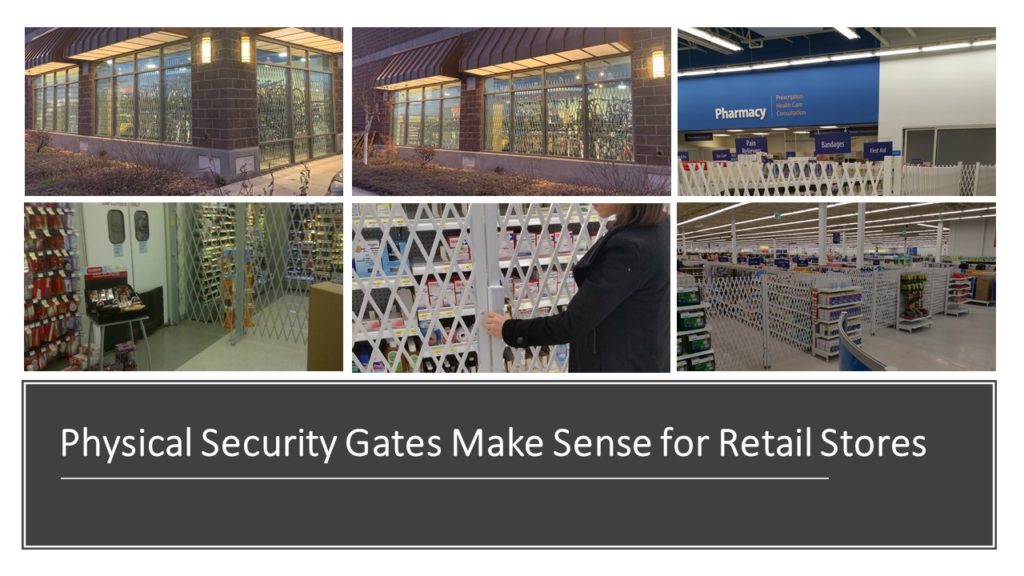 Using Physical Security at Retail Stores
Physical security is critical at retail stores. Crime is common at these stores and become a victim of a crime can seriously hurt a business, not to mention damage morale. The good news is that retail stores can protect themselves against crime and successfully control access within the property by using physical security gates.
Physical gates are a powerful tool that can be used in many different ways in nearly every retail store.
Preventing Smash and Grab Robberies
One of the most common uses for physical security gates is preventing smash and grab robberies. Gates are installed to secure windows and doors to deter criminals. Not only do gates create a firm barrier, but they also serve as a visual deterrent. Criminals can easily see that they're in place and this means they'll be less likely to consider your store a target. Unlike alarm systems or surveillance cameras, gates physically prevent people from entering a building. This keeps your property and your merchandise safe.
Restricting Access
Preventing burglaries isn't the only scenario where physical security gates can help. One very common application for gates is access control. Mobile security gates are commonly used inside retail stores to restrict access to certain areas. There are many different scenarios where this is useful. For instance, in some areas, drug stores are not able to sell certain medications without a pharmacist present. In these situations, mobile security gates can be placed around the aisles that should not be accessible. The same is true in regions where alcohol can only be sold during certain times of day. Outside of the legal sale hours, security gates can prevent anyone from accessing these sections of the store.
When you use security gates to restrict access, you not only stop people from entering these areas, but you also prevent confusion. If customers are able to freely walk aisles, they will likely pick up restricted products and bring them to the cash. This is true even if you have signage in place. You'll then have to inform them that the product cannot be sold at this time (which creates a negative customer experience) and staff will have to take the items back to the shelves. When gates are locked into place, everyone can clearly see that an area is off limits.
Discouraging Shoplifters
Security gates don't just help prevent criminals from gaining access to your property, they also stop them from getting their hands on your valuable merchandise. Criminals often target small yet valuable items when shoplifting. Commonly shoplifted goods include electronics, razor blades, medication, alcohol, baby formula, cosmetics, and other similar items.
Shoplifters often take advantage of busy or
distracted staff to slide these items into their pockets or bags. Placing
commonly-targeted merchandise behind security gates keeps them out of the hands
of shoplifters. Security gates can be place in front of shelves to restrict
access. Shoppers can still easily see the items, but they must ask store staff for
assistance if they wish to purchase them. This drastically reduces theft.
Down load our new Brochure full of applications. OR