What are Aluminum Folding Grilles?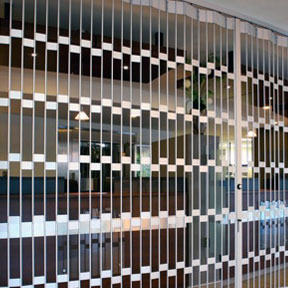 Aluminum folding Grilles or folding security partitions are an effective way of balancing visibility and security. They make it possible for you to see through the curtain to the other side while simultaneously restricting access. They act as a visible barrier and a crime deterrent without detracting from the appearance of your property.
They can quickly and easily fold back, allowing unobstructed access to your property during business hours. Folding metal security gates are an excellent choice for a wide variety of applications.
Folding aluminum grilles and security curtains are widely used in a number of different properties from retail stores and restaurants to offices and warehouses and everything in between because they are are lightweight, durable and very easy to operate.
---
Folding Security Partitions: The Advantages
The curtains employ a 4" by 1/16" thick aluminum extruded horizontal panel across the top and bottom of the unit for stability
There are 5/16" vertical rods at 3" centers linked by bars, plates, etc depending on style chosen
Panels are 6" wide, and can be solid, link style, checkerboard, punched, or glass or polycarbonate insert style
They come in anodized aluminum finish or a few select standard colors
They come with standard hook bolt locks at lead edge, interim lock posts not exceeding 6' linear spacing and stainless floor sockets
Overhead tracks are extruded aluminum 6351 tempered T6 in a 1 5/16" by 1 9/16" profile
Stacking is approximately 2" per linear foot, and weights are from 1.5 to 2.4 lbs/sq ft
We also offer a hurricane accordion (side to side ) folding curtain for exterior mounting
At Quantum Security, we take great pride in delivering durable, reliable and affordable products to our customers. We recognize the importance of physical security and will be happy to work with you to determine which security solution is best for your situation. If you have any questions about our aluminum security curtains or any of our other products, please feel free to contact us today to speak with one of our knowledgeable team members.