When is it Necessary to Use a Top Track System?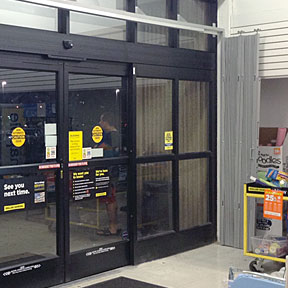 In a storefront location with long and large banks of windows that must be secured with window bar gates, the Top Track System lets you secure the gates to each other, not the window frames. As a result, each leading edge of the window gate has a heavy duty roller bearing that feeds into the aluminum top track secured above the window.
---
Advantages of the Quantum Top Track System
Quantum tubular steel gates are extremely lightweight, which makes this security option easy to use and highly efficient during opening and closing procedures.
The Quantum Top Track with roller bearings is ideal for use as a supportive mechanism for Quantum retractable grilles. The combination of these two advanced security measures offers the highest level of protection for any inventory including guns, cigarettes, liquor, cell phones and pharmaceuticals.
---
Protecting Your Inventory and Profits
For industrial manufacturing plants, warehouses or any other facility in which valuable inventories are exposed to passersby, the Quantum Top Rack System is the perfect configuration. Not only does it secure your most valuable items, but it also works to protect your bottom line by helping you avoid costly – and unnecessary – losses.
---
If you agree Quantum security gates are the right choice for you, please contact us today and we'll have them delivered and installed in no time.