Why do I need hallway security gates?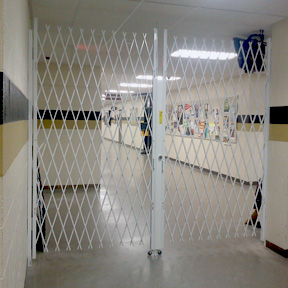 Hallways need to be secured and access restricted for many institutional buildings, schools and hospitals.
Today, many resources at schools are shared with the public after regular school hours. Gymnasiums and pools are sometimes rented out, so it may be important to secure hallways and restrict access after hours to the public. Quantum's hallway security gates are ideal for securing such requests.
Hospitals secure hallways and close off wings from public access, as do sporting arenas and shopping malls for crowd access control. Hallway security gates do just that!
---
Why Quantum security gates?
As well as been very cost effective, Quantum security gates are used because of their aesthetics, adaptability and versatility. The powder coated finish on the diamond pattern tubular lattice make them unobtrusive, both when in use and stored out of the way when not in use. But, a strong physical barrier. These gates can be hinge mounted to the walls to allow the gates to store flat against the wall when not in use, Also portable / mobile systems can be used.
---
Are the locks keyed to our existing locks?
For securing the gates in hallways for institution uses, we provide our unique all aluminum L206 or L207 Locking post, the hook latch accepts most key systems that you would use, and are completely exchangeable to suit your current key control for ease of use and convenience.
---