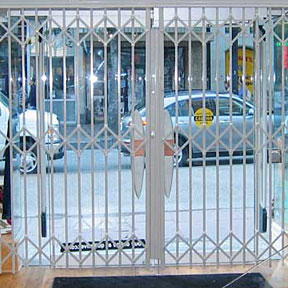 What is the Tmax Sliding Grille?
Quantum offers a custom made, fully framed, aluminum constructed retractable folding gate. The system is comprised of an expanding trellis framed lattice pattern with a suspension track and bottom guide rail. All aluminum grilles have been treated and epoxy coated to prevent corrosion.
---
How it Works
The Tmax Sliding Grille features a top track for support, such as in garage door opening applications. The system is used for storefront window and door security, as well as areas that have very wide openings. Gate doors and windows are custom made according to exact measurements and can be face mounted or fitted in the revel.
The Tmax Retractable Folding Gate can be by-parted and joined in the middle or simply secured at one end with our L206 double locking post with thumbturn. For your ultimate convenience, request that your locksmith key alike the Quantum Tmax System with your other forms of security.
---
Common Uses
Believe it or not, the Tmax Retractable Folding Gates are widely used in cottage and residential home security applications mostly during times when property owners are away from the premises but can also act as access control barriers. For example, in an effort to maximize children's safety, the Tmax Sliding Grille can control who is able to access the pool area.
Our security gates can be found in the following sectors where access control is required:
Storefronts
 Sporting stadiums
 Tradeshows
 Airports
---
If you agree Quantum's tmax security gates are the right choice for you, please contact us today and we'll have them delivered and installed in no time.