What is a Slam Lock?
Unlike our competitors who use simple pad locks or chains, Quantum Security is known for its patented Slam Lock on all window gates. To lock any of our security gate products, there is no need for chains or padlocks – simply slam the gates closed and you're done! Slam Locks are tamper proof and cannot be pried open or cut off.
To take full advantage of the capabilities of our security products, have your locksmith change the cores to be keyed alike to your other window and door locks.
---
What is an L206 Locking Post?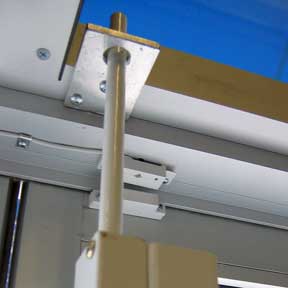 When it comes to our standard front door gates, the L206 Locking Post is a great option to replace the Slam Lock. However, there's no doubting the fact that the combination of our heavy duty, double lattice, front entry security gates with the L206 and thumbturn, provides incredible added security from any person trying to reach through the tubular lattice and tamper with the thumbturn.
Locksmiths across the country are selling this very combination of the L206 Lock Post and our Double Diamond Tubular Gate to complement retail storefront doors because they love the mortise cylinder interchangeable cores for keyed alike applications.
---
If you agree Quantum security gates are the right choice for you, please contact us today and we'll have them delivered and installed in no time.