For criminals, gun stores are popular targets. Not only can the guns inside these stores be used by criminals themselves in order to commit crimes, but they can also be sold on the black market. The black market for guns is large and very lucrative. For this reason, criminals often target gun stores of all sizes in both small cities and larger ones such as Dallas, Houston, Atlanta, Phoenix and across the country.
If you've ever had a break-in, or as you see on the news, you know criminals not always looking for large stores with cases and cases of merchandise either. Even just a few guns can be valuable enough for a smash and grab robbery to be possible. Most smash and grab robbers don't show up on the scene with a variety of tools and an easy way to get large amounts of merchandise out of a store. Instead, they smash through a door or window, grab what they can carry and get out quickly.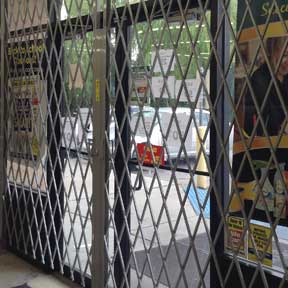 The speed of these crimes makes alarm systems relatively ineffective in dealing with them. By the time the authorities arrive on scene, the criminals have broken in, stolen what they were looking for and fled. Most smash and grab robberies take only one or two minutes. In some cases, the criminals are in and out in just seconds. Even if you have a monitored alarm that sends police or security guards to your property right away, they simply won't be able to get there fast enough to catch the criminals in the act.
Many gun store owners install video surveillance cameras in order to catch criminals while they are in their stores, but these images are only worthwhile after the fact. In addition, all a criminal needs to do in order to outsmart a surveillance camera is to wear a scarf, hood or mask that covers their face. This makes it very difficult to identify them.
Instead, gun stores and all other retail properties require a layered approach that includes physical security gates in order to keep their locations safe.
Securing Your Gun Store
The main aspect of a smash and grab robbery is speed. Criminals count on being able to break in, rob a property and get away from the scene before anyone can react to what is happening. Therefore, in order to prevent these crimes, you need to take speed away and make it significantly more time consuming to break into a property. One excellent way to accomplish this is to install physical security gates.
Most smash and grab robbers do not arrive on scene with sophisticated tools. They prefer to smash their way in with a brick or a crowbar. By installing security gates, you prevent these attacks. Most criminals aren't willing to spend the time and effort needed to attempt to get through a gate. Instead, the simply move on to the next property.
Advantages of Security Gates
Security gates have a number of advantages over other security tools. They work as a crime deterrent. As mentioned criminals often decide to just move on rather than risk getting caught breaking through a gate. This is a major advantage that security gates have over other types of tools. For example, window film can also make it more difficult to break through your gun store's window. The problem is that no one will know it's there until they've tried to break in. This leads to criminals making several attempts to force their way in and damaging your property in the process.
Another advantage that security gates have is that, while they are visible deterrents when you need them to be, they can quickly and easily be folded or rolled out of the way when you don't. This is a benefit over fixed burglar bars and it makes sure that your property always looks welcoming and inviting during business hours while still scaring away criminals at night.
Why Choose Quantum Security Gates
Quantum has been supplying and distributing durable and high quality security gates since 1997. We work with businesses of all types and sizes across North America to deliver cost-effective security solutions. We take pride in our dedication to quality and our focus on delivering superior customer service. We'd love to speak with you and help you secure your property with physical security gates. Please contact us today.
---
Related Retail Security Products