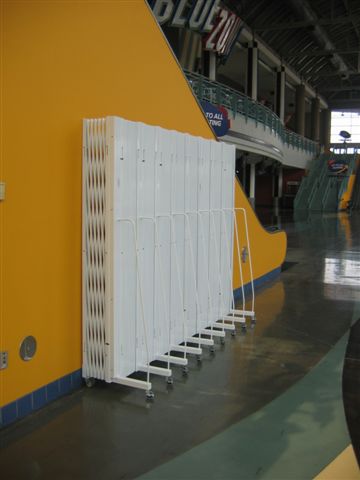 What do you mean by Portable or Mobile gates for Access control?
When most people think about security gates, they picture gates that are designed to keep criminals out of a building. This is one of the main reasons that people order and install security gates on their properties. However, preventing people from forcefully entering a building is just one use of our Quantum tubular security gates.
Security gates are versatile enough that they can be installed and used in a variety of locations, including inside a property. If you're looking to restrict access to a specific portion of your property, consider access control with security gates.
Quantum retractable gates mounted on trolleys can cordon off sensitive or valuable inventory inside your plant or warehouse, as well as quarantine sensitive areas. This allows you to keep certain items protected while still allowing access to walk freely through the rest of your property. You can provide certain employees with keys to the security gates so that they can access these items as needed while keeping everyone else out. This is an excellent way to protect valuable or potentially dangerous inventory within your property.
---
Access Control Using Security Gates attached to mobile or portable trolley system.
Security gates can also be utilized for access control in a number of locations. For example, you can utilize them in:
Sporting arenas
Convention centers
Trade shows
Shopping malls
Airports
Pharmacies
Schools
You can even install the trolley system in particular aisles at a trade show or convention center. This is also applicable in supermarkets and shopping malls that carry alcohol, tobacco or firearms. These gates allow you to stop selling these items during certain hours while still keeping the rest of the store open.
Quantum gates are lightweight and easy to use, so they can be locked, unlocked or even rolled around very easily. This makes them a great choice for access control as it does not take much time or effort to provide or restrict access as needed.
---
Can they be easily removed and secured in another desired area?
Yes, scissor style security gates can be mounted on a mobile trolley system for quick and easy roll away and out of site when not required.
---
Can very large areas be sectioned off with portable trolleys?
Quantum retractable gates on mobile trolleys have been used in extremely large sections at Sporting arenas, airports as well as shopping centers. Facilities can change their sectional configuration around at any time by pushing the gates to any location. The fact that our gates are made from tubular steel makes them light and very easy to move and reconfigure.