Securing your Retail Store from Criminals
Theft is one of the most aggravating issues retailers have to deal with. Theft in the form of shoplifting, fraud, employee theft, and smash and grab robberies costs retail stores across the country millions and millions of dollars each year. For retail store owners, these losses are significant. Retail stores often have no choice but to pass the costs of theft onto customers or risk going out of business due to the losses they suffer. Even if the store stays in operation, increased costs can result in lost business for the store, which can be crippling for a business.
Since theft and loss have such a big affect on retail stores, it only makes sense that retail store owners would want to take steps to reduce these losses.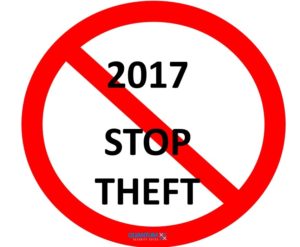 Here are some retail security tips for stopping theft and reducing loss at your retail store.
Stay Alert
One of the most important things that you can do is to be alert whenever you are in the store. Keep an eye out for customers who are acting suspicious. Make sure that employees know that you are watching them as well. Many retail crimes are crimes of opportunity. This includes shoplifting and employee theft. If criminals know that someone is watching them, they'll be much less likely to commit a crime.
Use Physical Security
Physical security tools can protect your retail store in many ways. First, installing security tools such as bars or gates on doors and windows drastically reduces the likelihood of a smash and grab robbery. Secondly, locking small yet valuable items (which are commonly targeted by shoplifters) behind gates or inside locked cabinets prevents shoplifting.
Place Items Intelligently
The way you lay out items within your retail store can go a long way to reducing theft. For example, make sure that you do not place commonly shoplifted items (those that are small enough to easily slip into a bag or pocket) in areas where criminals can hide. This means avoid placing them behind other shelves or around corners. Instead, display them right in the open where staff will notice someone picking them up.
It's also a very good idea to remove valuables from storefront windows when your business is closed overnight. This reduces smash and grab robbery attempts.
Train Employees
Employees should be trained to identify shoplifters and to take appropriate action when they are suspicious that a crime may have taken place or may be about to take place.
Employees should also be informed of company policies against theft and provided information on how management monitors inventory, cash and business assets. This information will let them know that they are being watched and reduce the likelihood of employee theft.
Have Policies
As mentioned, informing employees of your store's polices against employee theft is important. Therefore, you'll want to make sure that you actually have these polices in place. In addition to defining what is meant by employee theft and telling employees how assets are monitored and secured, you'll also want to be sure that all employees know the consequences of employee theft. Realizing that your store takes employee theft seriously will reduce theft.
Keep Detailed Records
If you want to reduce retail theft, loss and fraud, you'll need to keep detailed records of inventory, cash on hand, etc. This will allow you to notice any issues as soon as they come up and make it easier for you to catch theft when it happens.
We have put together some more helpful tips to improving the security of your business? Download our helpful guide to Improving Your Security Mindset.