Inventory Security & Control Tips for Businesses
One of the most essential aspects of running a business is managing, controlling and securing inventory. If you don't keep detailed information on your inventory and ensure that all of your inventory is always accounted for, your business can quickly fall into serious trouble.
When businesses don't have adequate inventory control and security methods in place, they can lose track of inventory. Items can get misplaced, incorrectly counted and even stolen. Managing and securing inventory is crucial to prevent loss.
Inventory is one of the most important assets that a business has. For this reason, it's incredibly important that you have security procedures in place to protect your inventory.
Using Security Tools to Protect Inventory
Businesses lose millions of dollars each year in stolen inventory. Some of this inventory is stolen by shoplifters or other criminals from outside the company. Unfortunately, some of this inventory is also stolen by employees. Either way, security technology can help protect your business against these crimes.
Alarms and Cameras
Alarm systems and video surveillance cameras can protect your company's inventory. An alarm system can make an audible noise and/or contacts the business owner or the authorities if a crime takes place. This allows you to react quickly to the crime in progress. The sound of an alarm may also scare the criminals away.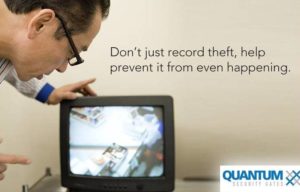 Security cameras can record footage of crimes in progress. This information can be provided to authorities to help them catch those responsible for the crimes. The presence of security cameras may also deter criminals.
Security Gates for Inventory Protection
Layering security is very important. Having just an alarm system or just a security camera is not enough. Physical security tools are also an important part of any security set-up. Physical security tools make it significantly more difficult for someone to steal inventory. Not only does this decrease the likelihood of a person being able to successfully rob your business, but it also deters criminals from even trying. They understand how effective physical security is and know that they are not likely to succeed in committing a crime, so many do not even try.
While alarm systems and security cameras may help you react to a crime and identify criminals after the fact, physical security tools (such as security gates) make it more difficult to commit a crime in the first place.
Placing security gates on your doors, windows and on your stock room will drastically reduce the likelihood of a criminal being able to break in and steal your company's inventory.
Security gates are not just effective at keeping criminals out of your property. Physical security tools such as security gates can also prevent shoplifting and employee theft. By securing your inventory and your company's valuables behind security gates, you reduce shoplifting opportunities and make it significantly more difficult for criminals to steal from your business.
You can prevent employee theft by locking your stock rooms and other areas that contain inventory behind security gates. You can then only provide access to these areas as needed. Only employees who require access (and who can be trusted with access) can be given keys to the security gates. This drastically reduces the number of people that can get into your stock room and thus reduces the likelihood of employee theft.
By taking steps to control and secure inventory, you can save your business a great deal of money by reducing inventory theft.
Ready to improve your security?
Download our 10 Critical Points to Securing your Shop, your Employees, and your Goods eGuide.