Security Gates for Restaurants and Fast Food Locations
When most people think of security gates, they picture retail stores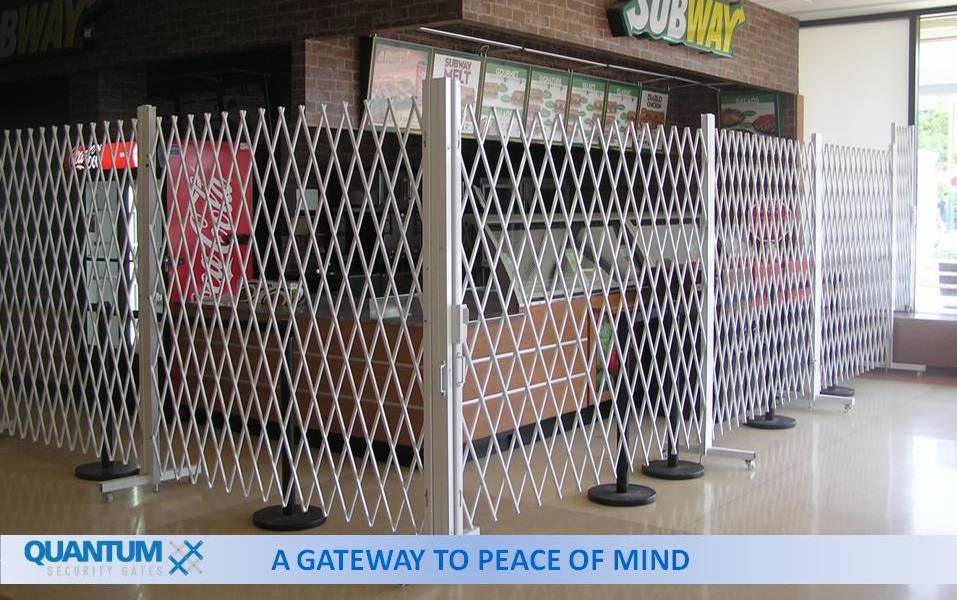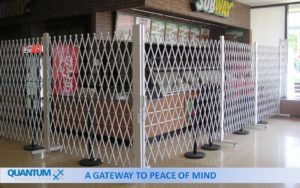 that use them to protect merchandise. While this is a common and effective use for security gates, it's far from the only use. Security gates have a wide variety of different applications and they can be used to protect all types of businesses.
This includes restaurants, bars, coffee shops, fast food establishments and many other businesses. Security gates can be used to secure standalone locations as well as shops that are located in shopping mall food courts.
Using Security Gates at your Restaurant
One of the main ways that security gates are utilized to protect restaurants is by using them as window and door security. Many restaurants, coffee shops and similar properties have large windows. These are prime targets for criminals. Not only can these windows be broken and become entry points for robbers, but they can also use them to see inside the business. This lets them see what valuables are inside and plan their crimes. Installing window security gates adds a strong physical barrier between the criminal and your property. Physical security is incredibly effective and it is also a powerful crime deterrent. Criminals understand how difficult it is to break into a property that has security gates installed and they often move on to an easier target than risk being caught in the act.
Many restaurant owners worry that window security gates will ruin the look of their location. They fear that the gates will make their property look "like a jail" or a fortress and that this will dissuade potential customers. Such concerns may have been valid in the past, but this is no longer something that you have to worry about. Modern security gates are available in a variety of different styles and colors, so they can be matched to the look of your property. But that isn't all. Window security gates can also be easily folded or rolled out of the way. This lets you maintain the welcoming appearance of your restaurant during business hours while still having a visual physical barrier in place when you are closed.
Owners of restaurants, bars, coffee shops and other such locations may not consider themselves to be prime targets for criminals. They may assume that retail stores, with their stockrooms and wealth of merchandise, are the more common targets. This, however, doesn't mean that criminals won't target a restaurant or coffee shop. These establishments also contain valuable items that criminals may want, items such as alcohol and cash. By taking the appropriate steps to protect your property, you are significantly decreasing the likelihood of a break-in taking place at your location. A break-in can be costly, not only in stolen merchandise, but also in the cost and time that it takes to repair your location after the break-in has occurred.  By being proactive and securing your property before it is targeted by a criminal, you save yourself this hassle and expense.
Looking for more ways to improve your security?
Download our 10 Critical Points to Securing your Shop, your Employees, and your Goods eGuide.