How to effectively layer security tools to deter break-ins at retail stores, offices, and other businesses.
How to Effectively Layer Security Tools to Effectively Protect Your Business
There is no single "magic" tool that will protect any property from any type of crime at any time. Security is the key to after hours protection for securing retail store, office, or any business is to effectively layer security tools and to include physical security as a key part of this strategy.
Different security tools have different
strengths and weaknesses, and by using a layered security approach, you give
your business the strongest possible defense. This strong defense keeps
criminals away.
Strong security is especially important in preventing after-hours crimes. Criminals frequently target businesses at night when no one is around because they do not want to be caught in the act. If they strike at night, not only are there fewer people around to see them, but they can hide in the darkness and work without fear. To stop such crimes, it takes a collection of tools, starting with security gates.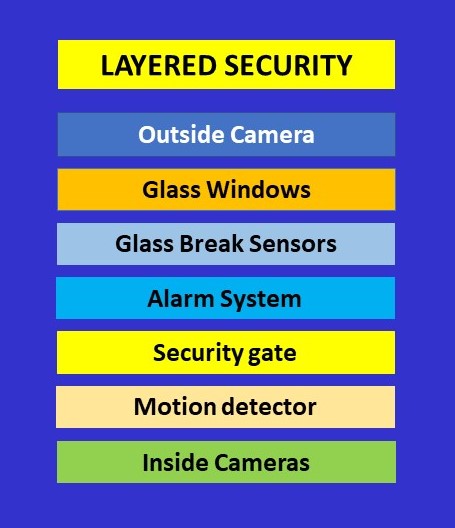 Why Security Gates are Effective
Security gates are effective because, unlike other tools, they put a physical barrier in between criminals and your property. Alarm systems are effective at alerting people to a crime in progress. Some can even be wired to contact the police as soon as there is an issue. However, a potential problem with using only an alarm is that it takes time for police to arrive. Smash and grab crimes are popular for this reason. Criminals know that if they can get in and out of a property in a few minutes, they'll be gone from the scene before police show up.
If you utilize physical security gates alongside alarm systems, you keep criminals out and provide after hours protection. In addition to gates on exterior doors and windows, you can also use physical security inside a property. Locking commonly stolen items (such as electronics, alcohol, and medication) behind gates or inside locked cabinets also slows criminals down should they manage to enter the building. The more time they must spend at the scene, the greater likelihood of them being caught committing a crime.
Video surveillance cameras are often used
in retail stores and offices to deter criminals. They can provide evidence to
police following a crime, but these tools don't do anything to stop a crime in
progress. Plus, criminals also know that they can wear masks, hoods, or scarves
to hide their identities, drastically decreasing the effectiveness of security
footage. Since this is true, many criminals are not deterred by cameras.
Physical gates, however, act as a strong
deterrent. Criminals know how effective they are, and they would rather strike
a property that does not provide them with as much difficulty.
Layering Security Works
As you can see, each type of security has its own benefits. By using multiple security tools together for after hours protection, you not only increase the strength of your system, but you also keep criminals away. They know that layering security works and are much more likely to strike a property that does not have such an effective system in place.
As mentioned, criminals like to strike at
night. In addition to using security gates, alarm systems, and surveillance
cameras, having appropriate lighting is also crucial. Not only does lighting
let criminals know that they will be seen, but it also improves the quality of
your surveillance footage and highlights the physical tools you have installed.
This keeps criminals away and your business safe.
Down load our new Brochure full of applications. OR